Each instructor at Caledonia Hot Yoga brings a wealth of experience, knowledge and individuality to our classes, and all teachers are certified in Yoga or Pilates approved programs. The variety of styles influencing the staff provides a breadth of knowledge on physical poses, philosophy and breathing techniques, so your practice will stay lively. Commitment to a welcoming, inspiring and safe atmosphere will always be the core of your experience.
Our teachers have a deep knowledge of anatomy and are happy to offer modifications to our injured and recovering students. It is important to remember that you know your body best! If you need to take a break, take a break. If something does not feel right, do not do it. Our teachers will never force you to do something that does not feel good; they are simply here to guide you and encourage you to work your hardest.
---
Dawn Maas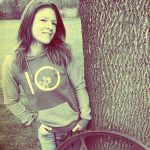 Dawn's first experience with Yoga occurred in 1996; she was a 'troubled teenager' seeking something 'else'. For several years, Dawn embraced and denied a passionate and tumultuous love/hate relationship with Yoga, but something deep within encouraged her to continue. In her early twenties, Dawn was subject to a car accident which left the range of motion and overall comfort of her neck, chest and upper back greatly diminished. An on-again-off-again Yoga practice became a daily ritual in which Dawn not only far exceeded the ranges of motion she had enjoyed pre-accident, but also a space and time in which she far exceeded her own mind.
In 2008 Dawn decided she simply must share Yoga and it's benefits with her community. After earning her 60 hr. Yin Yoga Teacher Certification in British Columbia, she embarked immediately on her 200 hr. Integrative Hatha Yoga Teacher Certification in London. In the same year, Dawn attended a Baptiste Power Yoga Intensive in the Caribbean, shortly followed by NIA licencing (fusion fitness) and Can-Fit-Pro Group Fitness Instructor Specialist Certification.
And the rest really is history. Dawn has been teaching in a variety of local Yoga studios and fitness establishments ever since; including Caledonia Hot Yoga upon it's initial opening and her own privately owned studio, Buddha Beast, which she has since closed and returned to the awesome team here!
Dawn's teaching style tends towards the powerful, though she encourages 'compassionate challenge'. Honest and sometimes raw, Dawn insists that each session should include a highly human element, even as we open unto the Soul. Total bird-nerd and lover of Nature, Dawn's words, prompts and suggestions in-class speak to Mother Earth and the cosmos… perfectly grounded as we float.
---
Laura Welch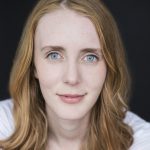 Laura Welch is a yoga teacher from the Hamilton-Area. Laura's first passions were music and theatre. She went to George Brown's Classical Theatre Conservatory, where she studied various technique for exploring her voice, body and emotions. She started her yoga practice originally to offset the stress of working in Downtown Toronto. After a few classes, she started to realize how closely the techniques for training actors are to a yoga practice. Her yoga practice became a means to prepare mentally and physically for any challenge in her professional and personal life.
After moving back to Hamilton, Laura decided to take her Yoga Teacher Training to deepen her own practice, but found halfway through the training that she was pulled very strongly to teach. She completed her 200hr teacher training with Anjeli Yoga Teacher Training in Mississauga. She also has taken a Yin teacher training with Kelly Bortolin.
Her favourite pose at the moment is Half-moon pose because it requires balance, strength, flexibility and ease.
---
Christi Nolan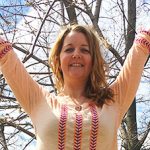 Christi came to yoga by accident when, on a whim, she purchased a discounted pass for a studio thinking she wouldn't enjoy it and wouldn't end up going more than once. She was just looking for an "easy workout" however, after one visit, she was hooked. While the practice itself was physical, she felt a profound connection to it and started to see a change in her emotional well-being as well. She quickly discovered that yoga is more than a physical practice, beginning to sense a strong mind-body connection that transcended into her everyday life.
Her life experiences have helped her deepen her practice and she loves sharing her energy with her students, wanting each one to feel that same connection she has.
She completed her 200 hour RYT through De La Sol in Hamilton, is an avid animal lover and loves to travel.
---
Kim Tasker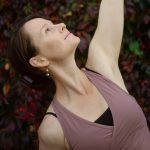 First introduced to yoga through a VHS video of Wai Lana and a didgeridoo playing, krav maga practicing yogi named Martin, Kim's journey has been an expansive one.
She has taught an array of class styles including Yin, Yin-Yang, Power flow and R&R. Since receiving her yoga teaching certification she has continued studies in Adaptive yoga, anatomy, meditation and any science around the mind-body connection.
She is incredibly passionate about creating the best possible experience for clients and has a personal focus on leading an empowering and thoughtful practice.
---
Alanna Folsom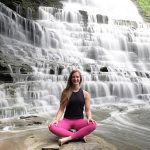 Alanna took her first yoga class at the age of 13 with some friends. She took classes here and there until age 21 when she started practising regularly. In order to afford practising at a studio regularly she began to volunteer at a local studio, cleaning or working the desk in exchange for classes. She did this for about 2 years before taking her Teacher Training at Freedom Yoga in Brampton.
Since then she has been working steadily at building her career as an instructor. She teaches yin, vinyasa, hatha and prenatal yoga. Her focus is on relaxing the mind so it can focus as the body moves. Slower classes include a meditative aspect while vinyasa focuses on harnessing inner strength and power.
She believes a good song can turn even the worst day around.
---
Chantelle Perzul
Chantelle has always had a passion for health and fitness. Out of curiosity she took her first yoga class in 2007 at her local gym and she instantly felt drawn to its balance of gentle, healing qualities mixed with physical challenges and mental focus. Since then yoga became a regular practice for Chantelle, she counts her blessings on and off her mat and she appreciates the benefits that yoga brings to her life.
As a way to deepen her practice and step out of her comfort zone she completed De La Sol's 200hr Teacher Training program in 2016 and has taken workshops on trauma sensitive yoga, meditation and Thai massage.
She aims to create classes that are welcoming and inclusive while being challenging and nurturing. Her wish is for everyone to step off their mat feeling energized, refreshed and ready to take on the day.