Each instructor at Caledonia Hot Yoga brings a wealth of experience, knowledge and individuality to our classes, and all teachers are certified in Yoga or Pilates approved programs. The variety of styles influencing the staff provides a breadth of knowledge on physical poses, philosophy and breathing techniques, so your practice will stay lively. Commitment to a welcoming, inspiring and safe atmosphere will always be the core of your experience.
Our teachers have a deep knowledge of anatomy and are happy to offer modifications to our injured and recovering students. It is important to remember that you know your body best! If you need to take a break, take a break. If something does not feel right, do not do it. Our teachers will never force you to do something that does not feel good; they are simply here to guide you and encourage you to work your hardest.
---
Dawn Maas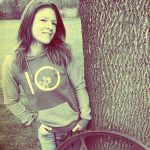 Dawn's first experience with Yoga occurred in 1996; she was a 'troubled teenager' seeking something 'else'. For several years, Dawn embraced and denied a passionate and tumultuous love/hate relationship with Yoga, but something deep within encouraged her to continue. In her early twenties, Dawn was subject to a car accident which left the range of motion and overall comfort of her neck, chest and upper back greatly diminished. An on-again-off-again Yoga practice became a daily ritual in which Dawn not only far exceeded the ranges of motion she had enjoyed pre-accident, but also a space and time in which she far exceeded her own mind.
In 2008 Dawn decided she simply must share Yoga and it's benefits with her community. After earning her 60 hr. Yin Yoga Teacher Certification in British Columbia, she embarked immediately on her 200 hr. Integrative Hatha Yoga Teacher Certification in London. In the same year, Dawn attended a Baptiste Power Yoga Intensive in the Caribbean, shortly followed by NIA licencing (fusion fitness) and Can-Fit-Pro Group Fitness Instructor Specialist Certification.
And the rest really is history. Dawn has been teaching in a variety of local Yoga studios and fitness establishments ever since; including Caledonia Hot Yoga upon it's initial opening and her own privately owned studio, Buddha Beast, which she has since closed and returned to the awesome team here!
Dawn's teaching style tends towards the powerful, though she encourages 'compassionate challenge'. Honest and sometimes raw, Dawn insists that each session should include a highly human element, even as we open unto the Soul. Total bird-nerd and lover of Nature, Dawn's words, prompts and suggestions in-class speak to Mother Earth and the cosmos… perfectly grounded as we float.
---
Kim Tasker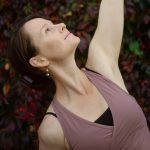 First introduced to yoga through a VHS video of Wai Lana and a didgeridoo playing, krav maga practicing yogi named Martin, Kim's journey has been an expansive one.
She has taught an array of class styles including Yin, Yin-Yang, Power flow and R&R. Since receiving her yoga teaching certification she has continued studies in Adaptive yoga, anatomy, meditation and any science around the mind-body connection.
She is incredibly passionate about creating the best possible experience for clients and has a personal focus on leading an empowering and thoughtful practice.
---
Alanna Folsom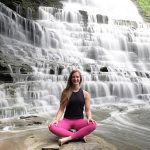 Alanna took her first yoga class at the age of 13 with some friends. She took classes here and there until age 21 when she started practising regularly. In order to afford practising at a studio regularly she began to volunteer at a local studio, cleaning or working the desk in exchange for classes. She did this for about 2 years before taking her Teacher Training at Freedom Yoga in Brampton.
Since then she has been working steadily at building her career as an instructor. She teaches yin, vinyasa, hatha and prenatal yoga. Her focus is on relaxing the mind so it can focus as the body moves. Slower classes include a meditative aspect while vinyasa focuses on harnessing inner strength and power.
She believes a good song can turn even the worst day around.
---
Chantelle Perzul
Chantelle has always had a passion for health and fitness. Out of curiosity she took her first yoga class in 2007 at her local gym and she instantly felt drawn to its balance of gentle, healing qualities mixed with physical challenges and mental focus. Since then yoga became a regular practice for Chantelle, she counts her blessings on and off her mat and she appreciates the benefits that yoga brings to her life.
As a way to deepen her practice and step out of her comfort zone she completed De La Sol's 200hr Teacher Training program in 2016 and has taken workshops on trauma sensitive yoga, meditation and Thai massage.
She aims to create classes that are welcoming and inclusive while being challenging and nurturing. Her wish is for everyone to step off their mat feeling energized, refreshed and ready to take on the day.
---
Jessica Kvasni
Jessica has an infectious love of yoga. She is continually inspired by yoga's ability to connect you with oneself, surroundings and the universe. This is what keeps her coming back to her mat and provides her with a constant source of love and strength.
Jessica decided she wanted to help people tend to their souls and took her teacher training at De La Sol in 2017. Since then she has also received certification in pre & postnatal yoga and is a DONA trained Doula.
Whether the class is peaceful and relaxing or an energetic flow, she hopes to guide her students to be present and feel a greater sense of connection, by linking breath with movement to calm and centre the mind.
She feels very blessed to be able share with you her passion.
---
Tamara Petrie
I have been a student of Yoga since 2004 and have completed a 200 hour Yoga Teacher Training course through Balance Yoga Studio. I am fluent in teaching Yoga Fusion, Restorative Yoga, beginners, teen, kids, Mom and Baby,Yin Yoga, Flow Yoga, Chair Yoga and Pre-natal Yoga. To further my knowledge in the beautiful art of Yoga I have attended several Yoga seminars at the Toronto Yoga Conference. In 2007 I completed a level 1 Thai Yoga Massage course in the Lotus Palm style of massage.
"Tamara is an enthusiastic and well prepared instructor who is confident, professional and clear in her teaching. Tamara has a soothing and friendly manner that helps her students feel an intimacy and connectedness in her classes".
I believe that Yoga is a life changing experience that only gets better with time and practise.
Like the Lotus flower we must grow rising above and beyond all obstacles in this life.
---
Bonnie Shapardanis
Yoga is a part of my life. My practice helps me grow stronger, more flexible and fearless, both on and off the mat. Yoga inspires me to live each moment more mindfully and with purpose.
I completed my Yoga training with YogaFit Canada. I will always be a student of yoga and am deeply grateful for the loving wisdom my teachers have shared with me.
In my classes, I love to combine fun sequences with a spirit of learning and challenge to help you deepen and enjoy your practice. I want to help you thrive in your life by nurturing your body, mind and soul with your yoga practice. My goal at the end of class is that you step off your mat feeling refreshed, nourished and balanced.
---
Stacey Diem
Stacey attended her first yoga class in Hamilton in 2012. At the time, she was a self-proclaimed work-a-holic in Veterinary Medicine; working 60+ hours a week. She loved the excitement of the unknown that her job brought her, but found herself struggling to sleep from adrenaline highs and a busy mind. She turned to yoga for help and was amazed at the changes in her body, mind and life as a whole. After holding a few different roles in a Hamilton Yoga Studio, Stacey decided to participate in Yoga teacher training in 2018 to advance her own practice and to open up more opportunities to make Yoga accessible to those around her.
Following her YTT, Stacey has been gradually reducing her work in Veterinary Medicine freeing up more time for her yoga practice and working towards a healthier work-life balance. With more time to focus on herself, she has since received additional training in Yin, Restorative, Meditation, Yoga Nidra, Yoga Wheel, Foam Roller, Hands on Assists and even Thai Yoga Massage.
Stacey's personal practice tends to be based more on rest and relaxation as a balancing tool for her otherwise busy lifestyle, but when it comes to teaching, nothing is off limits! She is passionate about creating custom sequences in all styles and at varying levels of difficulty to meet your needs.
After nearly 2 decades of helping animals, Stacey is excited to be able to transition her focus to helping other people find balance in their lives through yoga.